Black Stone Tiles

for as low as £12.99 vat inclusive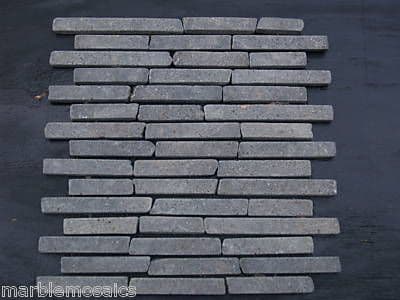 To view our full black tile range scroll down the page
Black stone tiles are a rising trend these days. Leading architects and interior designers are demonstrating "zen-like" color themes in their design – the famous black, white and gray scheme. The enduring and classic aesthetics of the zen concept is once again making its way back to mainstream. What better way to execute the design than with black stone tiles.

Black stone tiles have long been prominent for the sophisticated aura it brings to a home. Simultaneously, since these tiles are also made from natural stone, it also brings with it a sense of "humility" and "reverence" for nature. A design paradox, I might say. Nowadays, society is also, once again, paying homage to Japanese minimalist culture – "simple is beautiful."

Our tiles are made of all-natural Stone Granite, Marble, Glass and Quartz from the four corners of the globe. All of our black tiles are of the finest quality, sourced direct from the quarry or mine owners. Whether black granite tiles from India or pebble tiles from Asia, you can trust us to source the best possible natural stone at unbeatable prices whether for kitchens, floors, walls, or wet rooms.

We have over 5,000 square metre (m2) of black tiles in stock available for collection from our warehouse in Sussex or we can deliver anywhere within the UK or Europe. Click here to view our location or you can contact us on 01273 891144 to discuss your requirments.